Ever wondered what tools and resources I use? If so, you're in the right place!
Below, you'll find a list of things I've found extremely helpful for being successful in college, as well as adulthood. Please note that some of the links may be affiliate links, meaning I will receive a small commission if you purchase something through one of the links. This comes at no cost to you and helps me to continue making Chase the Write Dream even better!
Planners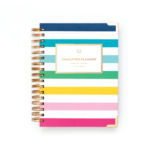 Academic Daily Simplified Planner, Happy Stripe – If you want a stylish, durable, and extremely useful planner that leaves no stone unturned, then this is the one for you! Jam-packed with daily pages to keep you on schedule, you're sure to have no problem staying on top of your game!
Action Day Academic Weekly Planner – This was the planner I used to get a 4.0 throughout grad school. The weekdays have hourly schedule slots so that you can keep track of every little detail, from your class times to study breaks. There is also plenty of space for taking notes, designating goals, and writing down accomplishments.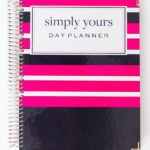 Simply Yours Day Planner – Not only can you personalize this planner, but you can choose the month you want it to start! No more wasting money on planners that already have half the months used. Also includes pages for keeping passwords, planning vacations, and tracking goals.
Bloom Daily Planner – If you're looking for something a little more generic with a touch of joy, then I can't recommend this planner enough. The Bloom Daily Planner is my back up to my regular one with hourly slots and is great for writing down tasks I want to complete each day. As a student, I would use this to keep track of homework assignments and due dates!.
College Must-Haves
Laptop Bag – Having a durable bag is a must for carrying books, laptops, and any other school materials you'll want access to throughout the day.
Kindle Fire HD – My Kindle saved me hundreds on books and was also great for surfing the internet and watching movies (because every student deserves some downtime). Add a keyboard and you're set!
All Season Comforter – Stay comfortable and cozy all school-year long with this simple comforter. Great price and machine washable – a must when living in the dorms!
Laptop Sleeve – If you already have a tote bag or backpack you're using to carry things around, I recommend getting a laptop sleeve to keep your computer protected from any unexpected drops or scratches.
College Ruled Notebooks in Various Colors – In my opinion (and according to science), nothing beats good ol' pen and paper. There's just something in our brain that processes writing down information better than when we type it.
Laptop Portable Desk – Work in comfort from your bed, the floor, or in the common areas where you live! This portable desk provides wrist support for additional comfort.
Portable Mouse
– Using your trackpad can become tiresome, and it can start to affect your wrist. I love having a cute mouse because it adds a little fun to the work I have to complete! There are also other fun animals and designs to choose from!
Dry Erase Calendar – Part of my organization process included writing things down in various places. This dry erase calendar is perfect for tracking deadlines and counting down the days until a break.
Essential Oil Diffuser – Keep your room smelling fresh while also dispensing the benefits of essential oils. Also, get added moisture during those dry winter months.
Saving and Making Money
Mint.com – Keep track of all your accounts (bank, loans, etc.) in one place with this free site/app. You can use this tool to set bill reminders, to set financial goals, and more!
Swagbucks – Did you know you can earn money for simply searching the web? You can also get Swagbucks (which can be exchanged for cash and gift cards) for watching video clips, playing games, and completing surveys. Since I know you're going to surf the web today anyway, you might as well get rewarded for it.
Ebates – Why I didn't sign up for this site earlier, I'll never know. All I can say is that this is probably the easiest way to get money back on my online purchases. You'll even get a bonus when you sign up and make your first purchase through the site!
Tools for Writing Papers
Google Scholar – Find scholarly resources in a jiffy with Google Scholar. No more sifting through those endless pages of content that your professor won't accept – Stick with the academic stuff that you know will impress them.
PurdueOWL – If citations and formatting aren't listed in your strengths, then this site is for you. I used this for practically every research paper I had to write and found the site to be very informative about how to not only write in-text citations, but references as well.
Ginger Grammar Checker – Unsure of whether you're using the right grammar in a sentence? Let Ginger help! Simply type in the text you want to check for grammar errors and click "Ginger It" to get the results.
Student Discounts and Deals
Amazon Student – Enjoy some of the perks of being an Amazon Prime member by signing up with your school email address. You'll get free two-day shipping and have the ability to get Prime membership for 50% off when you graduate. This is literally how I got almost all of my textbooks… Amazon is the way to go!
StudentRate – If a store or company offers a student discount, you'll be sure to find it here.